September 8, 2021
Good Afternoon Warren Students, Families, and Staff,
We have a few important announcements for the week of September 8th.
I would like to start by thanking all of our parents, staff, and students who contributed to this year's Homefest activities last Friday! It was a great way to celebrate Warren's homecoming.
To continue our investment in building relationships with our families and the community, MSD Warren Township in partnership with community partners is providing information and support for Warren Families who might be in need of housing and rental assistance. Upcoming workshops will be held on Monday, September 20th, Tuesday, September 21st, and Wednesday, September 22nd. More information will be included on our District website under the NEWS feed and will be updated as we get closer to the dates. If you have immediate questions, please contact Moorhead Community Resource Center at 317-532-3854.
MSD Warren Township in partnership with the Indiana Immunization Coalition will be providing a clinic to accommodate the flu shot, immunizations required for school-age children, and the COVID vaccine for individuals 12 years and older on Wednesday, September 29th and Thursday, October 21st at Moorhead Community Resource Center from 4 - 7 p.m. Families are encouraged to pre-register for this event. The registration link for the immunization clinic is patients.vaxcare.com/registration. After clicking on the link, enter the enrollment code, IN65942, and then select Warren Schools-9/29 or Warren Schools-10/21. Below are the required immunizations for school-age children.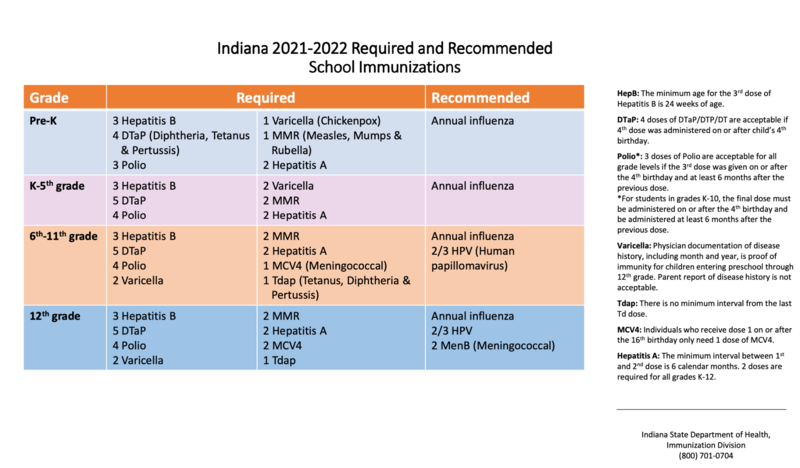 Just a reminder that in response to Governor Holcomb's Executive Order last week, we have made a couple of adjustments to our COVID Safety Protocols. These safety updates can be found on our District website under our COVID tab.
Although these new protocols will significantly decrease the number of students and staff having to be quarantined, these will only be effective if we continue to stay home when COVID-like symptoms are present or are awaiting COVID test results.
Thank you Warren Teachers and Staff for all that you are doing to make school feel like school this year! Thank you Warren families for your continued investment in Warren students and schools. Have a great rest of your week!
Dr. Tim Hanson, Superintendent of Schools for MSD Warren Township